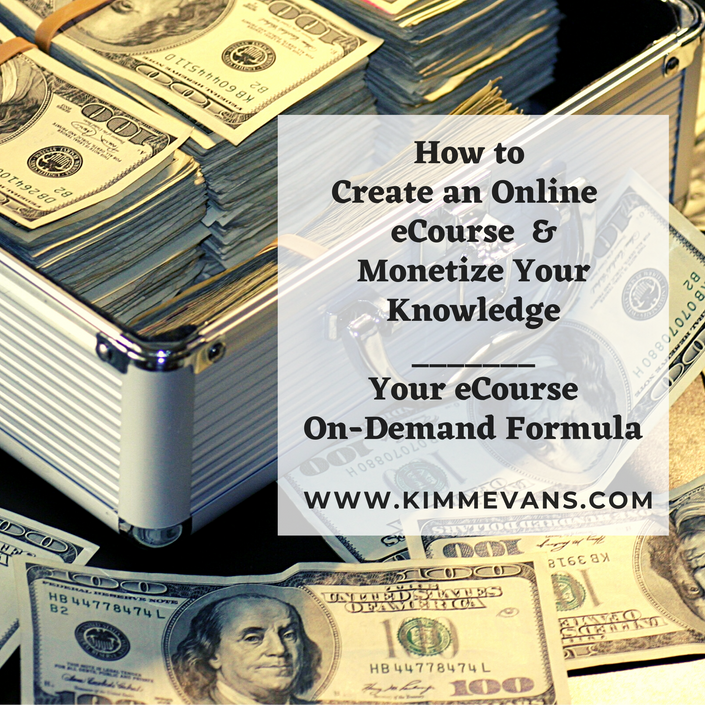 How to Create an eCourse On Demand & Monetize Your Knowledge.
Take your Gifts from the Marketplace to the Bank w/Kim Evans MA
How to Create an Online eCourse & Monetize Your Knowledge.
Learn how you can take your gifts from the marketplace to the bank with Kim Evans, MA.

It's time to enroll in "How to Create an Online eCourse On Demand & Monetize Your Knowledge."

What you will learn at the end of this 8-Week eCourse Program. You should be able to...
Nail down your course topic and have a clear outline to create your online program.
Validate your program to make sure your audience is willing and excited to invest.
Expertly record and publish all your course content (even if you're a total technophobe and have never recorded a single video in your entire life) or camera shy.
Developed a high-converting eCourse and irresistible offer that authentically enrolls your best prospects into your course.
Leverage a mix of Facebook ads, email marketing, LIVES, and Instagram to get a packed house of highly qualified prospects onto your webinars every single time
Craft a compelling sales page and post-webinar email funnel to amplify your course sales And…
Learn some true evergreen strategies to shift your course sales into autopilot, so that you can scale your revenue growth automatically and have consistent sexy paydays over and over!
This is a private, upscale and intimate virtual group coaching online program. You can enroll at anytime. Enjoy the LIVE component of the eCourse and try to make it live for the best engagement experience. All sessions are recorded for play back. Our next LIVE starts June 7th, 2021.

Reasons Why You Are Here...
You want to help someone learn or enhance a new skill, solve a problem or help with further and deeper personal development.
You are ready to take your passion, knowledge & expertise and monetize it in an eCourse that sells.
You want to learn effective strategies that attract new clients and drive more online business.
Allow me to introduce to you "How to Create Your Online eCourse & Monetize Your Knowledge" with Kim Evans.
About the program:
8 LIVE MODULES with Kim Evans during the (8-Week Group Coaching Program)
Q & A after each LIVE Master Class Course
Unlimited email support within the online portal
Private FB Group for community enrichment, if desire.
Check lists, PDF's and access to the online portal in teachable for up to one year.
Webinar replays with limited access inside the online portal
Use the tools learned to begin growing your new eCourse Business!
Open rolling class. You can start the course at any time,(after start date).
Feedback about your eCourse as you launch it with Kimm
All sales are final.
What you will learn from "HOW TO CREATE YOUR eCOURSE" Program System:
Key tools and systems that will help you create an online eCourse successfully.
Hot to 'Monetize' your knowledge and package it that sell in an eCourse package.
How to leverage, position, and price your eCourse.
Sign up early, eCourse size is limited.
Who This "e-Course Program System" is Not For.....
If you are not ready to do the work and grow.
Sharing your knowledge or gifts with the world is not a priority right now.
You don't have the commitment to give at least 5 hours per week to create your eCourse.
You desire to continue to work the "Abracadabra Method" and go at it alone.
You may find our single online courses useful: 2Gorjisbeauty.teachable.com
---
How to get the best out of the program: How to Create Your eCourse & Monetize Your Knowledge Program:

You can start and finish the online course at any time. Go at your own pace.
Each session is recorded & Includes access to the online portal anytime up to one year.
PDF's can be downloaded and saved.
All sessions are released weekly and after you complete each session.
Each session is approximately 30-45 minutes. Please allow enough time in each session for reflection and questions afterwards.
[You Next Action Plan] is given out at the end of each session to help you execute your eCourse.
At the end of 8-weeks you should be able to launch and sell your online eCourse.
Course Mentions:
Module 1, You should be able to write your vision
Module 2, Follow next action steps
Module 3, Know the audience you desire to serve
Module 4, You should have your eCouse outlined and priced by now.
Module 5, You should be ready to pre-sell your eCourse
Module 6, You should be gaining traction in your course
Module 7 You should be getting responses about your eCourse
Module 8, [Re-evaluate, rinse and repeat!]
Your Instructor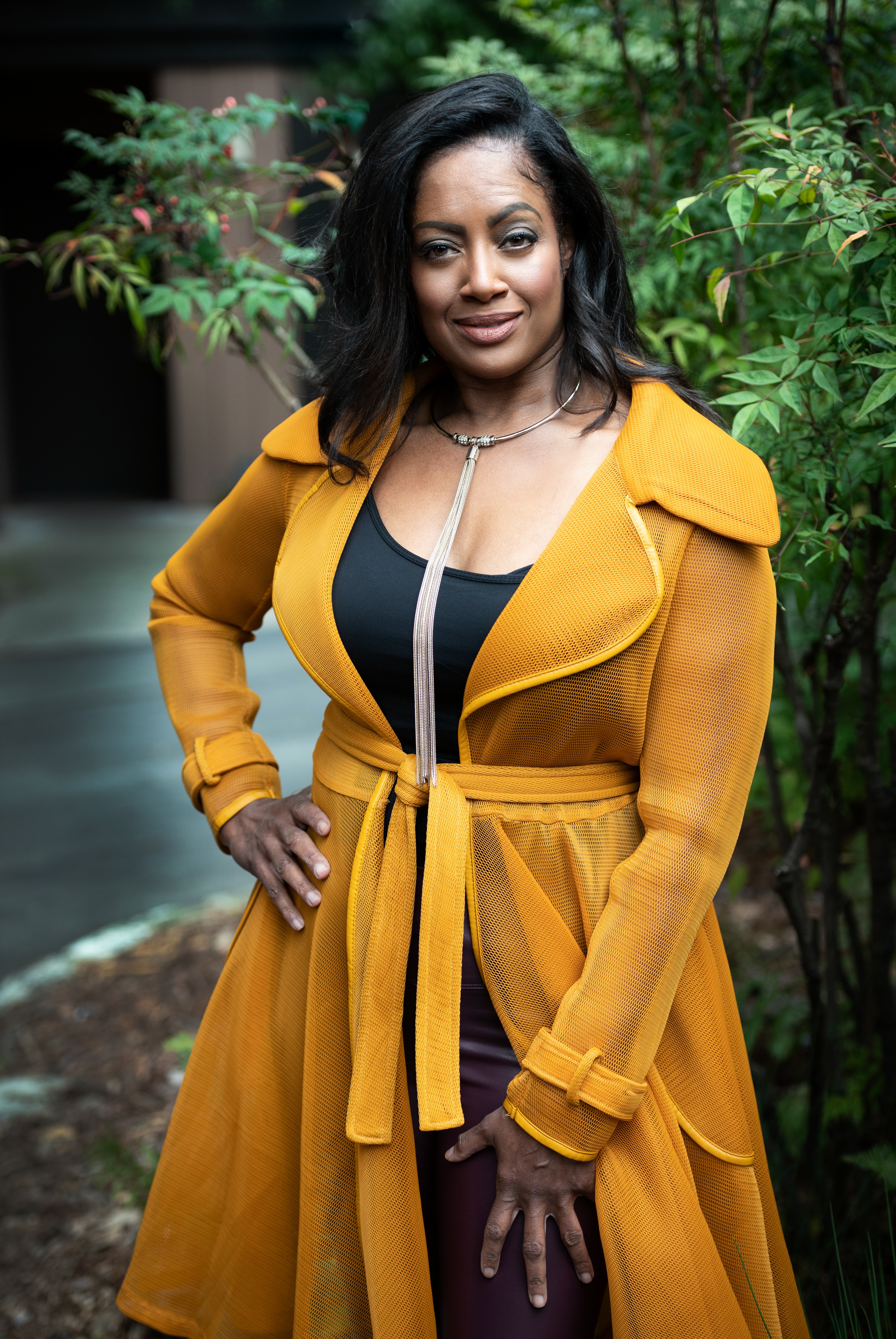 ABOUT KIM EVANS:
Kim Evans is a Speaker, Podcaster, Holistic Health Educator, Beauty Professional, Business & Lifestyle Wellness Coach.
---
Her Spa Experience as a Beauty Expert, Makeup Artist, Holistic Massage Therapist, and Business Woman; Owner of 2Gorjis Wellness Spa for 26 has led her to countless successful years in the beauty & wellness industry.
---
Kim is also the Founder of her own 2Gorjis`Look Good, Feel Great Beauty & Wellness After-School Program; now taught in select Middle Schools and High Schools taught in the SF Bay Area for the last 6 years.
---
As a Health Educator, Nutrition Coach and business owner of 2GORJIS; Integrated Health & Wellness; managing her own private facial and massage practice for both women and men since 1996, she brings over two decades plus of beauty, health and wellness success to her clients.
---
With her continued Spa success this has led to a passion to teach digital marketing, online business branding, holistic marketing and lifestyle wellness to other Solo-Entrepreneurs & Professionals, Coaches and Consultants.
---
Kim has expanded her Beauty Wellness Practice to include Nutrition Health & Lifestyle Wellness Virtual Coaching Programs globally available from anywhere in the world. Visit for more info: http://www.Kimmevans.com for further discovery and more information. Virtual appointments with Kim www.Calendly.com/KMECoaching/discovery
2GORJIS Radiant Beauty & Radiant Health
Course Curriculum
Module 1: Welcome: How to Create Your First Online eCourse & Monetize Your Knowledge with Kim Evans, MA
Available in days
days after you enroll
Module 2: Let's Choose Some Topics, Titles & Design Your e-Course
Available in days
days after you enroll
Module 3: Your Unique System, How to Create Your Content
Available in days
days after you enroll
Frequently Asked Questions
When does the course start and finish?
The course starts June 7th for the first LIVE WEBINAR training. If you miss a LIVE training, they are recorded. After we start, you can go completely self-paced - you decide when you start and when you finish.
How long do I have access to the course?
After enrolling, you can have unlimited access to this course for up to one year - across any and all devices you own.
What if I am unhappy with the course?
We would never want you to be unhappy! If you are unsatisfied with your purchase, contact us 14- days of purchase. We happy refund you. After 14 days, All Sales are final on any digital product. We do try to accommodate some happiness if you are dissatisfied and find another course that works for you.
How do I get in Contact or Work further with Kim?
At the end of every module, you will be able to ask any questions. Also to further work together there is a listed resource guide in the course creation program or you can always email me here:
[email protected]
Make the decision to move forward today! Program starts when you start.
Remember a great online course offers one specific transformation. So, pinpoint what that transformation will be and build a course towards that transformation. I am here to assist.
See you in the Virtual Classroom.

Kim Evans, MA